Funeral Home Flower Delivery
CHRISTOPHER'S FLOWERS
Funeral Flower Delivery
You can send flowers from CHRISTOPHER'S FLOWERS to any funeral home listed below. Please refer to this list for the names, addresses and phone numbers.
Port Huron, MI
Jowett Funeral Home
1634 Lapeer Ave
Port Huron, MI. 48060
(810) 985-5123
Karrer-simpson Funeral Home
1720 Elk St
Port Huron, MI. 48060
(810) 985-9605
Pollock-randall Funeral Home
912 Lapeer Ave
Port Huron, MI. 48060
(810) 982-0179
Smith Family Funeral Home
1525 Hancock St
Port Huron, MI. 48060
(810) 985-4351
Marysville, MI
Marysville Funeral Home
1200 Michigan Ave
Marysville, MI. 48040
(810) 364-7100
Saint Clair, MI
L C Friederichs & Son Funeral
214 Trumbull St
Saint Clair, MI. 48079
(810) 329-4222
How do you turn grief into a healing process? Show your respect and sympathy; flower delivery to the funeral home will comfort the bereaved. Although, you can't take away their grief, you can create an atmosphere of support and understanding by sending flowers. Feelings of warmth and caring are created when flowers are delivered to a Port Huron, MI funeral home from CHRISTOPHER'S FLOWERS.
To make flower delivery to a Port Huron, MI funeral home easy, call the CHRISTOPHER'S FLOWERS. CHRISTOPHER'S FLOWERS will create a memorial arrangement that expresses your heartfelt sympathy and deliver it to the Port Huron, MI funeral home. Just follow a few Port Huron, MI funeral home flower delivery guidelines.
Know the deceased full name
Know the date of the funeral services
Know the name and location of the funeral home.
Know the funeral customs of the deceased's religion.
Let the florist know if it is designated for a particular family member
To help you find a Port Huron, MI funeral home, CHRISTOPHER'S FLOWERS lists all the funeral homes they deliver flowers to.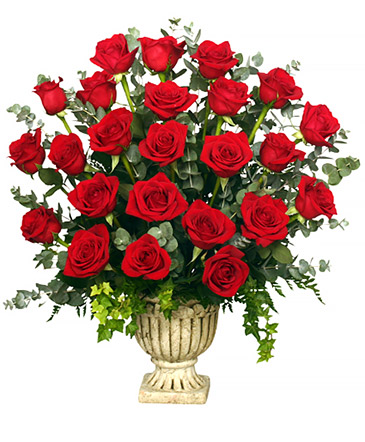 Regal Roses Urn
Funeral Flowers
Send this eye-catching design with classic, elegant roses and greenery to express your deepest sympathy. We can use red, white, pink, lavender or yellow. No mixing. >>**Urn is discontinued**Designer will choose an alternate container**
Shown at $200.00
REGAL ROSES URN
FUNERAL FLOWERS
Grecian Urn Container, Foliage: Ivy, Eucalyptus, Leather Leaf, Red Roses.
Send this eye-catching design with classic, elegant roses and greenery to express your deepest sympathy. We can use red, white, pink, lavender or yellow. No mixing. >>**Urn is discontinued**Designer will choose an alternate container**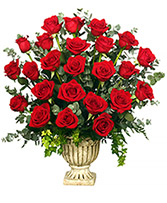 $200.00
$225.00
$275.00
Shown at $200.00
Shown at $200.00

REGAL ROSES URN

FUNERAL FLOWERS

Grecian Urn Container, Foliage: Ivy, Eucalyptus, Leather Leaf, Red Roses.

Send this eye-catching design with classic, elegant roses and greenery to express your deepest sympathy. We can use red, white, pink, lavender or yellow. No mixing. >>**Urn is discontinued**Designer will choose an alternate container**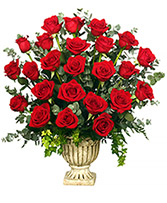 $200.00
$225.00
$275.00
Shown at $200.00